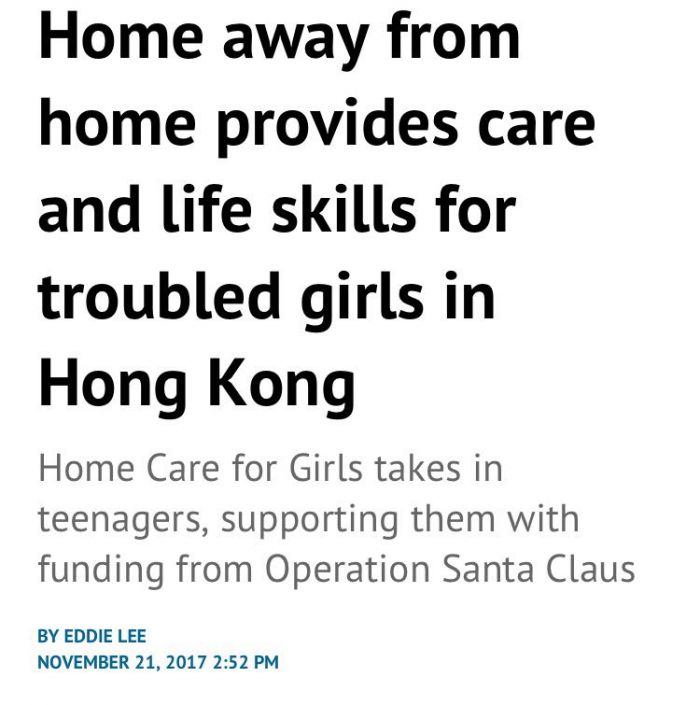 South China Morning Post
Featured
Home away from home provides care and life skills for troubled girls in Hong Kong
Home Care for Girls takes in teenagers, supporting them with funding from Operation Santa Claus
It is 5pm and at a temporary shelter for homeless girls, the kitchen is bustling. A team of teenagers are preparing dinner for themselves and their peers, part of the daily routine at the home, in a tower block on a public housing estate in Tsing Yi.
The lodging is run by Home Care for Girls, a non-profit organisation, founded by Sister Agnes Ho. The place provides a safe and caring environment where troubled girls can seek compassion and stability away from problematic family situations.Elf Wong Ching-ying, who manages the care home, said teenage girls were referred to them by social workers."They are unable to stay with their families for different reasons," Wong said of the home's residents, aged between 14 and 18.
Home Care for Girls receives funding from Operation Santa Claus, the annual charity campaign jointly organised by the South China Morning Post and RTHK."These girls are secondary school students. They face family problems and are in dire need of a place that can provide them with stable accommodation so that they can focus on their studies," Wong said.
The service provides homeless girls with accommodation at HK$1,640 monthly for up to one year. The girls will return home if their family problems are resolved in that time.Others may transfer to long-term government residential care homes if their troubles persist.Apart from their basic needs, the girls' social and emotional development is also taken care of at the home.
"Some girls don't even know how to make the bed when they just arrive," Wong said."We teach them how to lead an independent life, and to cook, to help them grow up," she said, adding that counselling services were also available to help the girls deal with their emotional problems.The teenage residents have a daily routine at the home, where members take turns to cook and do chores."Our home is more than about beds, sofas, TVs ... Family-like peer support, and the care provided by the staff here are also very important," Wong said.A former resident said she saw the place as a warm shelter."It feels like home to me," the 23-year-old, who identified herself as "Man", said.Man said she had a troubled relationship with her elder brother, and she was referred to the organisation in 2011 after the death of their mother.She has recently finished her studies. "I want to be a social worker," Man said, adding that she was inspired by the home's staff and hoped to help other girls.Minnie Li Au Kam-ping, chairwoman of Home Care for Girls, said she believed the girls and the community as a whole could benefit from their service."When you help a girl, you are shaping her future and helping her with her family," she said."This group of homeless girls, though small in number, are also part of those neglected by society," she added.
This article appeared in the South China Morning Post print edition as:

Centre offers a warm shelter for troubled girls
SCMP website: http://www.scmp.com/news/hong-kong/community/article/2120884/home-away-home-provides-care-and-life-skills-troubled-girls